At its core, business is about building and nurturing relationships. No one understands that better than Creative Fish Studio, a member company at our South Bay location dedicated to building and supporting brands across multiple industries. Boasting clients from coast to coast after being on the branding scene since 2014, we wanted to learn more from the studio's creative director and owner, Jessica Accamando.
The Q+A
Q. In one sentence, describe who your company is and what you do.
A. Creative Fish Studio is a communications and creative services shop dedicated to advancing brands through fresh design and strategic marketing.
Q. What is the problem you're solving?
A. Easily put, we help brands spread their message and look good doing it—whether it be a logo update, a marketing plan, or a new website!
Q. What brought your company to Los Angeles?
A. Although we have clients and a team spread across the US, CFS has always called LA home. We started here (and will stay here) because there's a heartbeat in LA that believes in good design and a culture of creativity.
Q. How has being a part of the Cross Campus community helped you or your business grow?
A. Joining Cross Campus was a brilliant decision! I've found new clients and creative support in an infectious culture of entrepreneurial spirit. Beyond income growth, I've expanded my network and found a place that feels less like an office space and more like a community or team.
Q. If your company had a cocktail, what would it be and why?
A. A strong but smooth craft, high-quality whisky stirred slowly with two splashes of fresh-squeezed blood-orange juice. Add a splash of a homemade ginger ale and stir with a seedless jalapeño. Last, rim the glass with fresh lemon and decorate with a wedge of the blood-orange. Enjoy!
We take care to tend to details while adding character and creativity to our projects. Some staples we serve to every client, but mostly we craft unique solutions for adventurous minds. We're not afraid to take risks and we never make a drink with cheap whisky.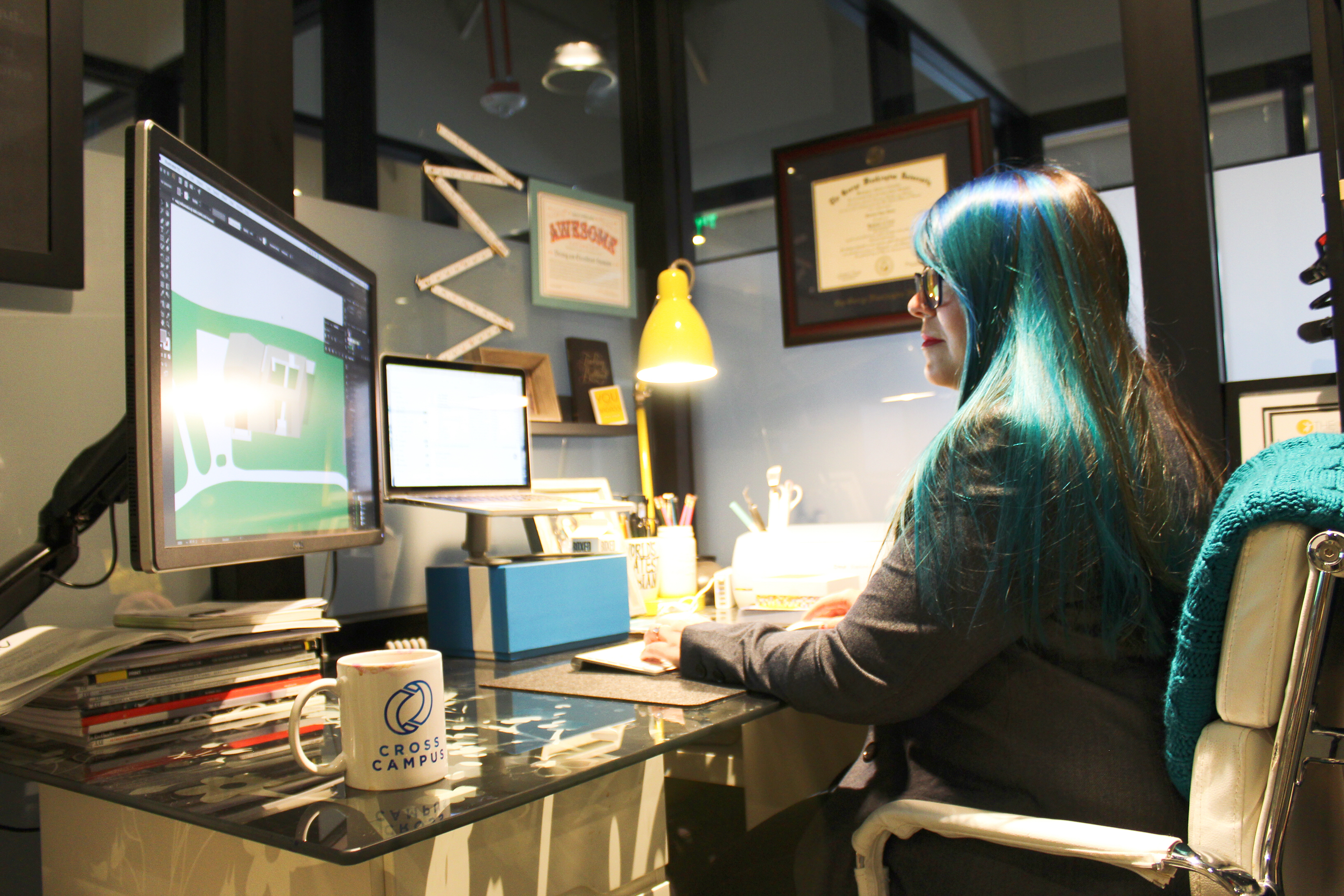 Q. What has been your most satisfying moment in business?
A. The most satisfying moments are when clients rave about something we've done for them. Our business is built on relationships and good design—if we make you look good AND feel good, we're beyond satisfied.
Q. Tell me about a time you failed at a goal you needed to achieve.
A. It's hard to identify failures because I look at every mistake as an opportunity for growth. Mistakes are critical to a small business—even when they hurt. We have failed to meet our monthly revenue goal on occasion and I turn it around as a reminder to go back and touch base with potential clients or take time to send gifts of appreciation to past clients. Our response to failure is almost always to circle back and remember we have relationships to nurture.
Q. What are some of the characteristics of people that have been successful at your company?
A. Success is a feeling. We feel pride, honor, and delight when a project goes as planned. We feel fulfillment and satisfaction with an office-life well balanced—plenty of vacation and lots of time to do creative exercises beyond the task list. I feel success each day we nail a project on the mark and get home in time to make dinner before sunset.
Q. Who do you respect the most, and why?
A. Michelle Obama, hands down. We constantly ask ourselves, "What would Michelle do?"
Q. Where do you see yourself and your business in 10 years?
A. I've not a clue where I will be in 10 years. Long-term planning, although touted as the wise move for business growth, is not in my life-blood. Planning too far in advance narrows opportunities and the ability to see detours and new directions of potential. I focus on authenticity and embrace change—in mind, opinion, and connection—especially as a creative. While I plan Creative Fish's 1-3 year goals, I don't set them beyond that so my business can move forward freely. But… I do invest in retirement—I'm not stupid.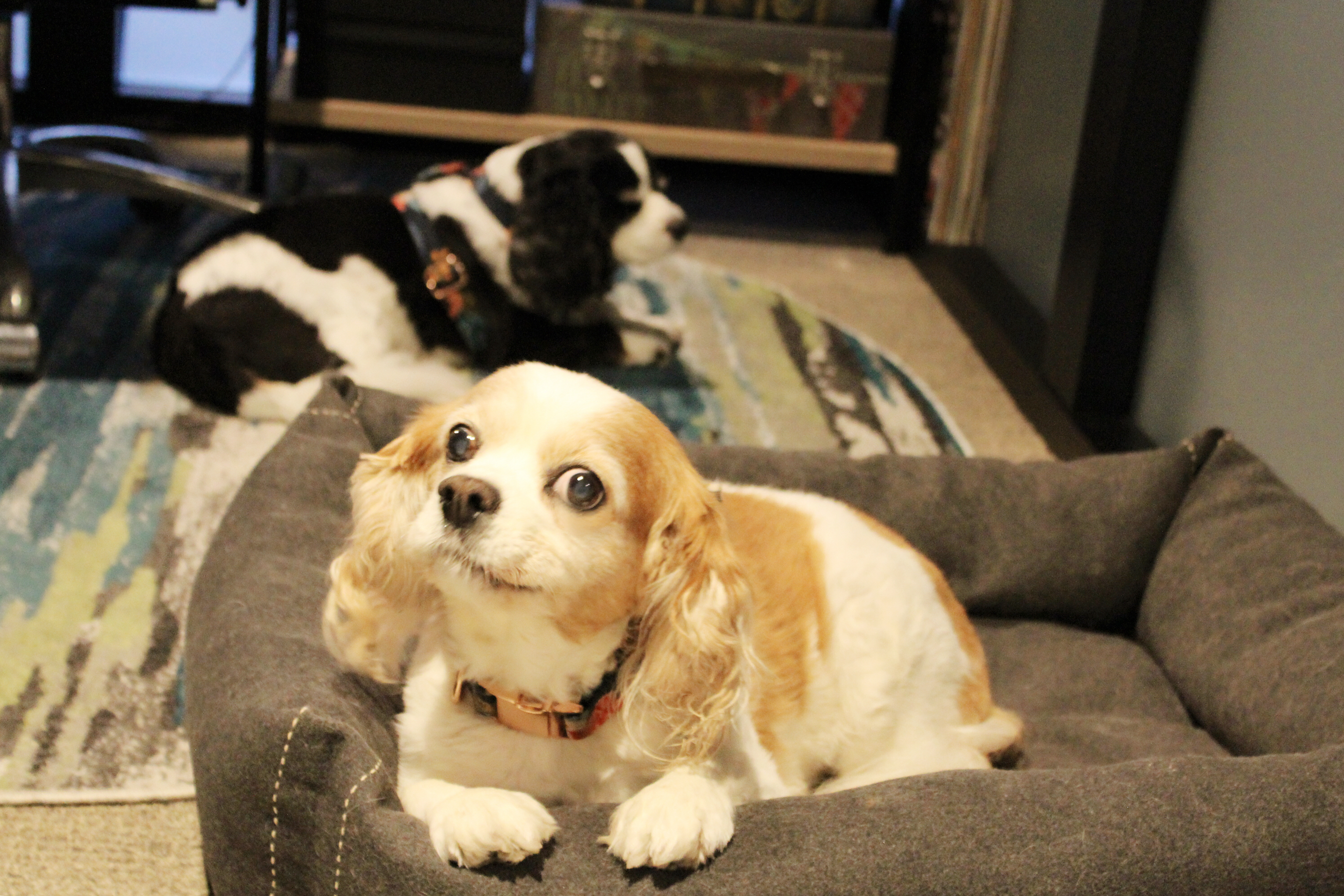 Learn more about Creative Fish Studio here.
Interested in bringing your business to South Bay? We have coworking, private offices of every size, meeting space, and event space to fit all of your business needs. Schedule a free tour to get your membership started today.