The #1 Conference where Wellbeing Tech founders, investors, and innovators meet to unlock the future of health, work, and human excellence.


About this Event
Make a bold leap to Redefine Wellbeing.
Join the TTC 2020 - the most important annual event for Human Wellbeing and Tech. This year's conference is an inflection point -- where you'll discover future opportunities and current cases enabling a radically ambitious goal to make human wellbeing exponential. The TTC is where you'll meet the founders, investors and innovators in Wellbeing Tech.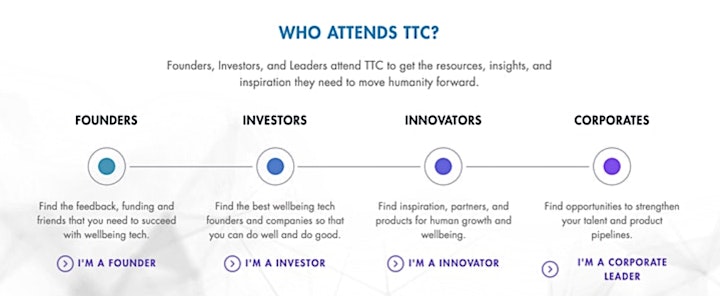 Why Attend TTC?
Take Significant Action. Become part of a movement to elevate the human mind
Be Visible. Become known to the analysts, insiders, buyers, press and investors who attend and know TTC
Access Resources. Find the feedback, funding and friends you need to succeed
Find companies. Find the best wellbeing tech founder and companies.
Network. Find like-minded co-founders, advisors, partners and investors. We make it easy.
Be Nourished. Expand your mind, soul and start-up with inspiration.
Be Current. Access the latest, most advanced research that can be applied today, from the people who are pioneering it.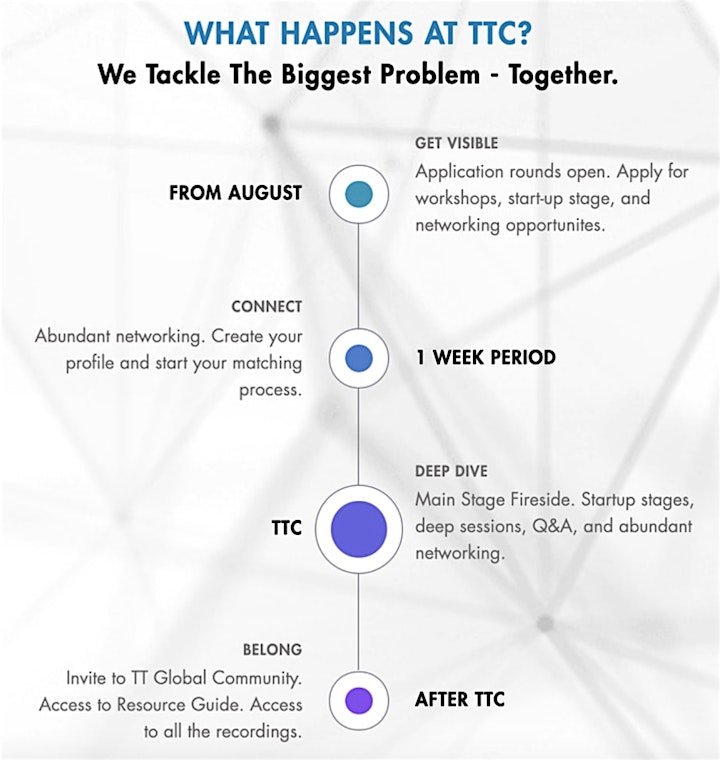 Why Wellbeing?
Wellbeing is the essential tool for the future of health, work and human excellence. Wellbeing Tech is the application of exponential technologies, like AI and robotics, biotech, VR/AR and immersive games and more to human inner growth and development - specifically mental and emotional wellbeing, social and emotional wellness and potential and performance. Wellbeing Tech is an emerging category built on decades of deep tech and science, applied to the new frontier of the human brain and mind. Wellbeing Tech is the right tool to shift the arc of human history towards abundance.

The Problem and the Solution
The Big Problem facing humanity is that our tech AND our crises are on exponential curves while human growth and development is still linear and analog. Closing the gap sets humanity up for a great expansion in human potential and today represents a $4t market opportunity.
The Path Forward
The next chapter for humanity will answer the question, How do we create the tools to empower deep wellbeing for all? Solving for this will enable humans to envision who we are, what we build together, and how we create an abundant world.
The TTC 2020
This is the year to Redefine Wellbeing. Accelerating trends driving Wellbeing Tech have only been supercharged by Covid as people and companies revisit how they feel, live and work. It's a challenging time, but also one for optimism as the social, cultural, and technology shifts make real positive change possible.
We have a once-in-a-century opportunity to transform education, productivity, preventative health, and the hard limits of what we think humans can do and be -- which will support equality and opportunity in new ways.
This is the moment for the creators, catalyzers, investors of courage and good heart like you to build the tech that will change the course of human history. This is the conference where that happens. Join us.
PROGRAM
Experience a mix of deep visionary talks, exciting real-world companies, and the opportunity to make hundreds of important connections. You could have the most important meeting of your start-up career
FIRESIDE CHATS
Hear from visionary founders, investors and scientists on how we can secure the big wins for human wellbeing.
Discover new opportunities, mind-blowing ideas, new scientific evidence, and understand the landscape for Wellbeing Tech.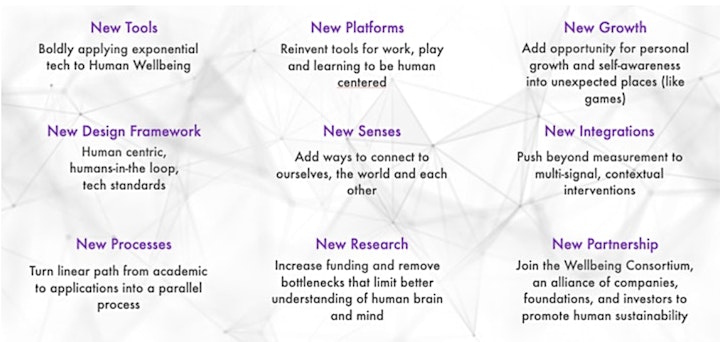 Our Speakers (this list will be uploaded with new speakers every week)
Mark T Bertolini (Former Chairman and Chief Executive Officer, Aetna Inc.)
Jason C. Mayden (Super Heroic + Trillicon Valley)
Steven Kotler (Executive Director at the Flow Research Collective)
Maryanna Saenko (Co-founder Future Ventures)
Hamet Watt (Founder & CEO Share Ventures)
Ghislaine Boddington (Co-Founder / Creative Director at BDS Creative)
Joe Daly (Senior Partner at Gallup)
Jeffrey Walker (Chairman of New Profit)
Mike Edelhart (Managing Partner at Joyance Partners)
Miri Polachek (CEO at Joy Ventures)
Paolo Pirjanian (CEO and Founder of Embodied)
Amanda Eilian (Co-founder and Partner at __able Partners)
Dmitry Grishin (Founder at Grishin Robotics, Co-Founder at Mail.Ru)
Susan Magsamen (Executive Director of the International Arts + Mind Lab)
Ivy Ross (Vice President, Design for Hardware Products at Google)
Sly Lee ( Co-Founder | CEO - Emerge)
Alex Zhavoronkov (Founder | CEO - Insilico Medicine)
Start-Up Stages
Our Startup Stage shines a spotlight on Wellbeing Tech startups with outstanding potential, helping them find investors, co-founders, research collaborators and more. Over two days, we will showcase 100 start-ups curated by our advisors and sourced from applications and nominations.

Abundant Networking
Meet exactly who you need to with extensive networking channels. Find founders, investors, advisors and more. This virtual event will allow you to network, network,network. We will open the channel 1 week prior and ensure that you know who is coming so that you can build relationships.
Start-Up Directory
The companies of Founder ticket holders will be listed on our company directory to enable attendees to find you easily before, during and after the conference.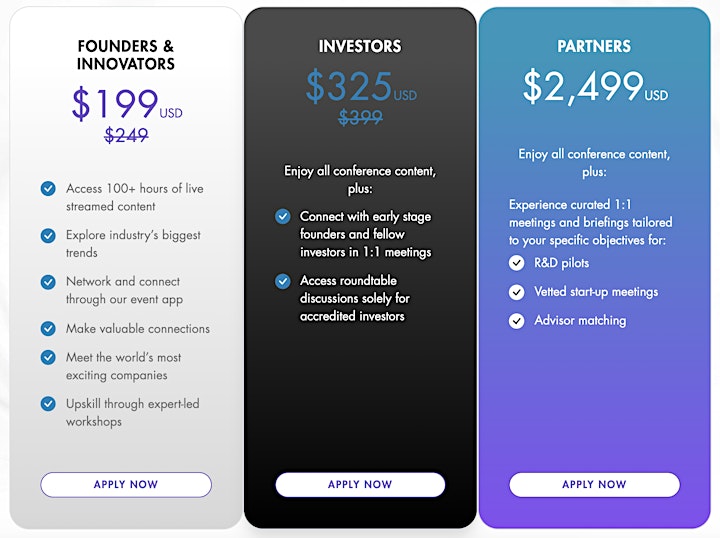 FAQs
What's the refund policy?
We're happy to transfer your ticket to another person.